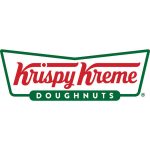 Krispy Kreme South Africa Menu Prices
Krispy Kreme is a popular coffee and donut chain. Krispy Kreme SA sells individual doughnuts, doughnut boxes, hot beverages, collectibles, and other items.
Krispy Kreme Prices
Scroll below to find the Latest Krispy Kreme South Africa Menu with Prices.
NAME
PRICE

DOUGHNUTS

Original Glazed Dozen
R130,00
Original Glazed Half Dozen
R78,50
3 piece Original Glazed
R39,90
Dozen Assorted (Doughnuts)
R160,00
Assorted Half Dozen (Doughnuts)
R99,80
3 piece Assorted
R49,90
Doughnut Bites (Doughnuts)
R28,50
KK Tin - 6 Original Glazed
R178,40
KK Tin - Assorted Half Dozen
R193,80

BEVERAGES

Peach Iced Tea
R33,00
Lemon Iced Tea
R33,00
Coke (330ml)
R26,90
Coke Zero (330ml)
R26,90
Cream Soda (330ml)
R26,90
Sprite (330ml)
R26,90
Fanta Orange (330ml)
R26,90
Fanta Grape (330ml)
R26,90
Appletizer (330ml)
R33,00
Red Grapetizer (330ml)
R33,00
Mango Fruit Juice (350ml)
R30,00
Orange Fruit Juice (350ml)
R30,00
Apple Fruit Juice (350ml)
R30,00
Fruit Cocktail Juice (350ml)
R30,00
Still Water (500m)
R20,00
Sparkling Water (500ml)
R20,00

COLLECTABLES

KK Baseball Cap
R215,00
KK Tin (Tin Only)
R100,00
KK Travel Mug (Stainless Steel) (Collectables)
R145,90
KK Travel Mug (Plastic)
R84,50
KK Glass Keep Cup
R110,00
KK Festive Tin
R100,00
KK Domed Lid Tumbler
R110,00
KK Mug
R110,00

COFFEE

KK Coffee Filter 250
R120,00
KK Coffee Roasted 250
R120,00
Disclaimer: Coupon Hub gathers actual pricing information from sources such as on-site visits and business websites. The prices reported on this webpage derive from one or more of those sources. Naturally, the prices reported on this website may not be current, and may not apply to all locations of a given business brand. To obtain current pricing, contact the individual business location of interest to you.
Krispy Kreme FAQ
Does Krispy Kreme Deliver?
Krispy Kreme delivers to selected areas in Gauteng, Western Cape and KwaZulu-Natal. You should place an order online any time up to 48 hours before a desired delivery date, in accordance with their 2 day lead time on all orders.
Krispy Kreme has Doughnuts-On-The-Go available at selected mini locations at Pick 'n Pay, Engen Quickshops, Checkers, Spar and President Hyper.
Click here for a full list of mini locations.
Is Krispy Kreme Vegan?
Krispy Kreme is not vegan. There are traces of egg in the doughnut mixture.